COVID-19 Alert
Our technicians are practicing social distancing and we are offering outside only pest control on request.
Killum Pest Control now offers the ActiveSense Remote Pest Monitoring System.
Killum Kills 'Em
Killum Pest Control, Inc offers a host of pest control treatments.
Serving the Gulf Coast since 1959.
Houston SaberCats
The Official Pest Control Provider of the Houston SaberCats Rugby Team
Rodent Problems?
Killum can monitor and remove rat infestations with remote technology.
Killum is the Area's Top Provider of Residential and Commercial Pest Control Services
Killum Pest Control, Inc. proudly services the Texas Gulf Coast. Houston, Pearland, Friendswood, League City, Seabrook, Missouri City, Manvel, Sugarland, Alvin, Angleton, Lake Jackson, Clute, Richwood, Freeport, West Columbia and many other cities in the Brazoria, Ft. Bend, Harris and Galveston counties are in the service area.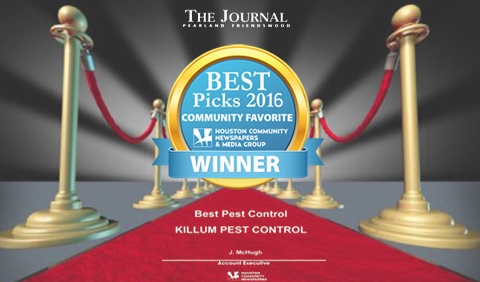 Killum Pest Control, Inc. Voted Best Pest Control Company by Pearland/ Friendswood Journal Readers 2010-2016

Sentricon® Termite Elimination System
We are certified specialists in the deployment of the Sentricon System.
See how Sentricon relentlessly protects your home from termites.
Why Choose Killum?
Our customers continue to trust us for their pest control needs for a number of reasons. Here are just a few:
Responsive Service
With 2 locations in the Gulf Coast area, we can deploy technicians quickly before situations worsen.
Unmatched Customer Service
Our friendly staff will do everything to exceed your expeditions. From on time service appointments to our professional technicians we strive to do our best for you.
Safety is Key
At Killum, the safety of you, your family and pets is a priority on every job.
Guaranteed Work
We guarantee our work. We retreat at no cost if pests return during the warranty period.
"Killum Pest Control has been our residential exterminating company for the past five years. After trying other companies and methods of pest control, we switched to the courteous and professional services of the folks at Killum."
Common Pests that We Treat For