Your Choice for Residential & Commercial Pest Control
Our technicians are practicing social distancing and we are offering outside only pest control on request.
Killum Pest Control now offers the ActiveSense Remote Pest Monitoring System.
Killum Kills 'Em
Killum Pest Control, Inc offers a host of pest control treatments.
Serving the Gulf Coast since 1959.
Houston SaberCats
The Official Pest Control Provider of the Houston SaberCats Rugby Team
Rodent Problems?
Killum can monitor and remove rat infestations with remote technology.
Killum is the Area's Top Provider of Residential and Commercial Pest Control Services
Killum Pest Control, Inc. proudly services the Texas Gulf Coast. Houston, Pearland, Friendswood, League City, Seabrook, Missouri City, Manvel, Sugarland, Alvin, Angleton, Lake Jackson, Clute, Richwood, Freeport, West Columbia and many other cities in the Brazoria, Ft. Bend, Harris and Galveston counties are in the service area.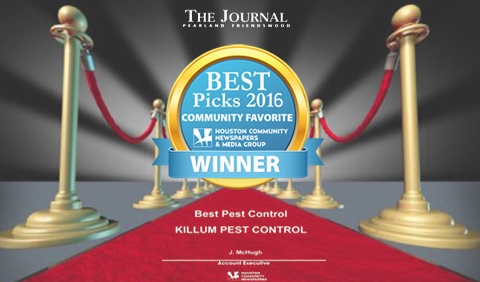 Killum Pest Control, Inc. Voted Best Pest Control Company by Pearland/ Friendswood Journal Readers 2010-2016

Ask Us About the Sentricon® Termite Elimination System
We are certified specialists in the deployment of the Sentricon System. See how Sentricon relentlessly protects your home from termites.
Why Choose Killum?
Our customers continue to trust us for their pest control needs for a number of reasons. Here are just a few:
Homes Treated
With 2 locations in the Gulf Coast area, we can deploy technicians quickly before situations worsen.
Pest Types Treated
We treat all types of pests from insects to rodents and birds. See below for more examples.
Guaranteed Work
Our work is 100% guaranteed!  If your pest problem isn't solved, we'll come out and re-treat at no cost to you.
Common Pests that We Treat For
Monitor Pest from Anywhere In Real-Time
Killum Pest Control offers the ActiveSense Remote Pest Monitoring System.
Having mosquitoes and other pests invade your home is an unpleasant experience. They can ruin an otherwise perfect...
It's important to be aware of carpenter bees because of their habit of boring into wood. If untreated, carpenter bees...