Our Premier Residential Service is our
KILLUM COMPLETE SERVICE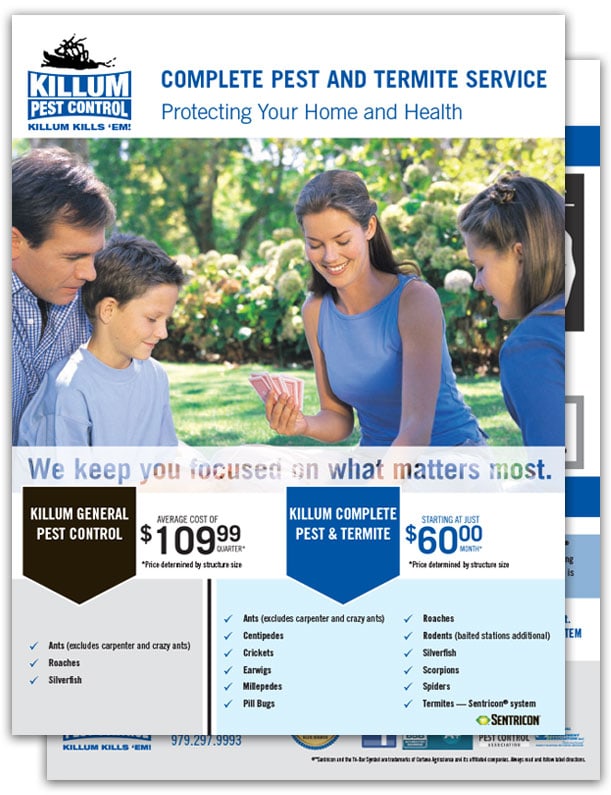 This service provides complete protection from 13 different common pests native to our area including Subterranean and Formosan termites.  Our expertly trained and licensed technicans will treat your property quarterly and monitor your termite bait system featuring the Sentricon Colony Elimination System bi annually.  With the KILLUM COMPLETE SERVICE, anytime you have a pest problem we will come back out at no additional charge.  Your house must qualify for the KILLUM COMPLETE.  Please talk with our office staff or technicians for the details.
Additional Service: Animal Trapping (exclusions: bat remediation, bird control & bird trapping)
Basic treatment will warranty roaches, ants and silverfish. We will treat the immediate perimeter and inside of the structure/home including the attic, where accessible.
We perform pest control services on retail facilities, restaurants, hotels, manufacturing & food processing plants along with schools and warehouses, to name a few.
We provide one time, monthly, bimonthly, quarterly, semiannual, and warranty services.
We offer warranty service plans to match your specific needs.If warranty service is required, we will return at no charge until you are satisfied or the time period expires.
We can even successfully treat for "Tawny Crazy Ants" aka "Rasberry Crazy Ants"